Contact: Call (512) 521-1573  or                                                                           E-Mail:  selcojohnson@gmail.com
        BLEACHER REPAIR
Wheelchair areas shall be an integral part of any fixed seating plan and shall be provided so as to provide people with physical disabilities a choice of admission prices and direct lines of sight comparable to those provided for other members of the visiting general public.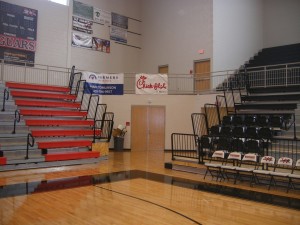 They shall adjoin an accessible route that also serves as a means of egress in case of emergency.
 At least one companion fixed seat shall be provided next to each wheelchair seating area. When the seating capacity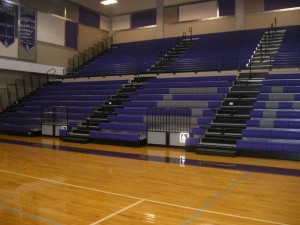 exceeds 300, wheelchair spaces shall be provided in more than one location.
Readily removable seats may be installed in the wheelchair spaces when the spaces are not required to accommodate wheelchair users.
codesonline.nfpa.org/a/c.ref/ID020101108004/chapter
publicecodes.cyberregs.com/icod/ibc/2009/icod_ibc_2009_10_sec028.htm